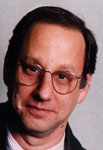 David Weinberger (self@evident.com) is the editor of JOHO (Journal of the Hyperlinked Organization), an independent web zine on the sometimes subtle effects of the Web on the way businesses work. He is a regular commentator on National Public Radio's All Things Considered and a columnist for KMWorld and Intranet Design Magazine. He has written for a wide variety of magazines, including Wired, The New York Times, Smithsonian and TV Guide, and gives talks around the world on what the Web is doing to business He was one of the instigators of Open Text's transformation into a pioneering intranet application company.
He is on a bunch of industry boards and committees, including AIIM's Emerging Technology Advisory Group, the Seybold Conference Advisory Board, the KMWorld 99 Advisory Board, the Xplor Marketspace Advisory Board and Instinctive Technology's Advisory Board. He has a Ph.D. in philosophy that entitles him to affect an air of smug obscurity whenever he chooses.
He is also the one-person strategic marketing company, Evident Marketing, helping high-tech companies figure out what their products can be and how they can talk about them.
He lives in Boston with his family and really hates writing about himself, especially in the third person.